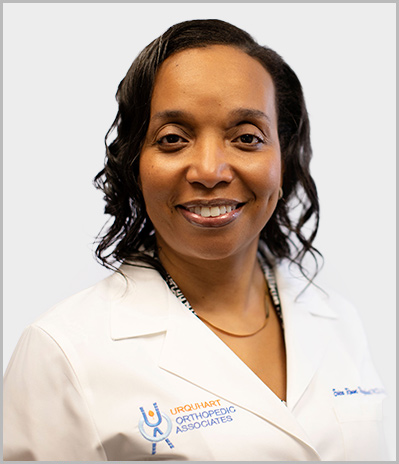 Erica Rowe Urquhart, M.D., Ph.D.
Orthopedic Surgeon
Dr. Erica Rowe Urquhart is a San Diego native. She graduated valedictorian and Associated Student Body President from Samuel Gompers Secondary School. Prior to graduation, she was distinguished as "America's Top Student Leader" by the National Association of Secondary School Principals, recognized as Science Student of the Year at the California State Science Fair, and had the opportunity to interview former Chief Justice Warren Burger at the National Bicentennial Competition on the Constitution. Dr. Urquhart left San Diego for Cambridge Massachusetts as a Harvard National Scholar. During her freshman year at Harvard, she pledged Alpha Kappa Alpha Sorority, Lambda Upsilon Chapter. While at Harvard, she majored in biomedical engineering while completing her premedical requirements. Upon graduation from Harvard, Dr. Urquhart attended the Johns Hopkins University School of Medicine where she completed her M.D. and obtained a Ph.D. in molecular and cellular neuroscience in seven years.
While at Johns Hopkins, Dr. Urquhart met and married her life partner, Dr. Marc Urquhart who was an orthopedic surgery resident and graduate of Johns Hopkins School of Medicine. Dr. Erica Urquhart was selected for orthopedic surgery residency at the Cornell University-affiliated Hospital for Special Surgery, an all-orthopedic hospital on Manhattan's upper East side. As a chief resident, Dr. Urquhart had her son, Amari while completing the requirements for graduation from residency. After orthopedic surgery residency, Dr. Urquhart joined her husband, Marc in private practice where they formed Urquhart Orthopedic Associates in northern New Jersey. In 2006, the couple had a daughter, Alexis. In addition to her roles as wife, mother and practicing orthopedic surgeon, Dr. Urquhart continues to be involved in community service.
Dr. Urquhart plays a leadership role at Christ Church in Montclair, New Jersey, serves as a founding director of the Women's Leadership Council of the Liberty Science Center, and participates in Live from...orthopedic surgery, a unique program where her surgeries are broadcast live in a interactive format to students at Liberty Science Center and internationally. 2013 marks the 25thanniversary of Dr. Urquhart's presentation as a debutante by our chapter. She is the daughter of Soror Mary Rowe and the goddaughter of our ivy beyond the wall, Soror Pearlen Denmon.
Education
Research & Publications
Awards
M.D.: The Johns Hopkins University School of Medicine
Ph.D.: The Johns Hopkins University School of Medicine
BS: Harvard College
Residency:
Hospital for Special Surgery, Cornell Medical College