Treatments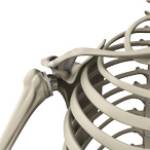 Conventional surgical methods such as total shoulder joint replacement have been shown to be significantly ineffective in the treatment of rotator cuff arthropathy. Reverse total shoulder replacement is an advanced surgical technique specifically designed for rotator cuff tear arthropathy, a condition where you suffer from both shoulder arthritis and a rotator cuff tear.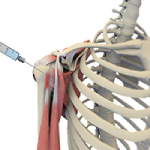 An ultrasound is a common imaging technique that employs high-frequency sound waves to create images of organs and other internal structures of the body. These images provide valuable information about the underlying pathology of tissues and assists with diagnosis and planning the treatment of a condition. The ultrasound provides a clear view of organs, tendons, muscles and joints, and any associated disorders.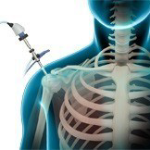 Arthroscopy is a minimally invasive diagnostic and surgical procedure performed for joint problems. Shoulder arthroscopy is performed using a pencil-sized instrument called an arthroscope. The arthroscope consists of a light system and camera that projects images of the surgical site onto a computer screen for your surgeon to clearly view. Arthroscopy is used to treat disease conditions and injuries involving the bones, cartilage, tendons, ligaments, and muscles of the shoulder joint.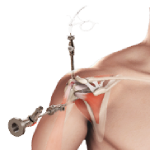 Rotator Cuff Tears: The rotator cuff is a group of tendons in the shoulder that provide support and enable a wide range of motion of the shoulder joint. Major injuries can cause rotator cuff tears. A rotator cuff tear is one of the most common causes of shoulder pain in middle-aged adults and older individuals.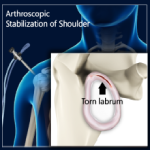 Shoulder instability is a chronic condition that causes the frequent dislocation of the shoulder joint. A dislocation occurs when the end of the humerus (the ball portion) partially or completely dislocates from the glenoid (the socket portion) of the shoulder. A partial dislocation is referred to as a subluxation while a complete separation is referred to as a dislocation. The repeated dislocation of the humerus out of its socket is called chronic shoulder instability. A tear in the labrum or rotator cuff and a ligament tear in the front of the shoulder (a Bankart lesion) may lead to repeated shoulder dislocations.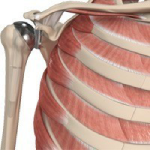 Total shoulder replacement surgery is performed to relieve these symptoms. In this surgery, the damaged articulating parts of the shoulder joint are removed and replaced with artificial prostheses. Replacement of both the humeral head and the socket is called a total shoulder replacement.